Sanity Group
·
Office Jägerstraße
WEB DESIGNER (F/M/D)
Sanity Group aims to improve the quality of life for people in Europe through the meaningful use of cannabinoids. We believe that there's a lot of untapped potential in nature that can contribute to a healthier way of life for many people. In addition to medicine, our focus is also on cannabinoid-based wellbeing and cosmetic products. In parallel, Sanity Group is also working and researching new medical products, innovative dosage forms and technological products & services to further develop the cannabis industry.

Our mission is to help unlock the full potential of the cannabis plant and its ingredients in order to make them accessible for people.
You as a new Web Designer (F/M/D) in our Berlin office will join our design team consisting of 4 creative minds. We support all design needs of our brands (such as Vaay.com or This.Place) and manage their visual expression, taking into account business and strategic insights. We look forward to adding an experienced web design expert to the team to further optimize user interaction and create an excellent customer experience.
YOUR TERRAIN
You will be responsible for the user-centric design and optimization of our platforms so that our customers enjoy a superior customer experience
You are responsible for prototyping and creating modern visual designs, UX and UI using modern tools (Figma, Sketch, Adobe Creative Suite, inVision)
You will also support us with the development of digital products for online marketing, with a focus on conversion rate optimization
You develop your implementation proposals on the basis of data, insights and usability tests
You work closely with internal stakeholders such as tech, marketing and content
You take on the role of user representative and support your stakeholders by ensuring that the right information is reflected in the right places on our platforms
HOW YOU CONVINCE US
You can identify yourself with our mission to revolutionize the European cannabis market and want to make your contribution
You have 2+ years of proven professional experience as a UX/UI designer, ideally in a startup or ecommerce company
You are familiar with UX and design software (Figma, Sketch, Adobe Creative Suite, inVision)
You have experience in creating user-centered visual and digital design (design system, website architecture, functionality, interaction patterns and navigation)
You are familiar with UCD, planning research, user testing, A/B tests and rapid prototyping
You are known for your creativity and resourcefulness and have a passion for delivering high quality, sophisticated UIs
You ideally have experience with cross platform design (web & mobile)
Your written and spoken English is fluent, German is a plus
WHAT YOU CAN LOOK FORWARD TO
We provide flexible working hours in an innovative and agile working environment
We cherish uncomplicated interaction with each other in flat hierarchies and with short decision paths
We foster an open culture and agile way of working with a lot of space to create and develop ideas
We pay fair - based on your qualifications and experience
We provide internal and external development opportunities, because stagnation means a step backwards
We live an error culture with the motto "Fail fast!", because mistakes make us better if we handle it transparently and learn from it
We organize team events for a lot of fun besides work
WHAT YOU SHOULD KNOW
Sanity Group was founded in 2018 by Finn Age Hänsel and Fabian Friede. The company now employs a team of over 90 employees in Germany at its headquarters in Berlin and its production facility near Frankfurt am Main. Sanity Group brands include Vayamed (pharmaceuticals), Sanity Science (research and production), Belfry Medical (medical devices), VAAY (CBD products) and This Place (natural cosmetics). The company is supported strategically and financially by venture capital companies such as HV Capital as well as by various business angels such as music producer Will.i.am, TV entertainer Klaas Heufer-Umlauf, football player Mario Götze and model Stefanie Giesinger.
WHAT DO I NEED TO APPLY?
Passion to revolutionize the cannabis industry
Sending Case Study / Portfolio (Link, PDF, etc.) is a must
CV
Please note that only candidates with a portfolio / case study of design work will be considered. We are looking forward to receiving your application!
Related jobs
Your Benefits
Flexible working hours in an innovative and dynamic working environment

Uncomplicated interaction with each other in flat hierarchies and with short decision paths

An open culture and agile way of working with plenty of space to design and space for your ideas

Internal and external development opportunities, because stagnation means a step backwards

An error culture with the motto fail-fast, because mistakes make us better if we handle it transparently and learn from it

Team events and a lot of fun besides work

Cereals, beverages, product discount and many more
Our Culture
Our identity can be defined as "People first": we believe that everybody deserves to live a healthy life, has a meaningful career as well as a happy private life.
This includes, that ...
we want to work with people whose values and beliefs are consistent with what is important to us and what we believe
we want to create an environment where people can show and be who they really are and see themselves in the long-run
we want to build an environment where everyone strives for the best outcome
Our identity determines our values act entrepreneurial, be transparent and continuously improve that guide both our behavior and decision making: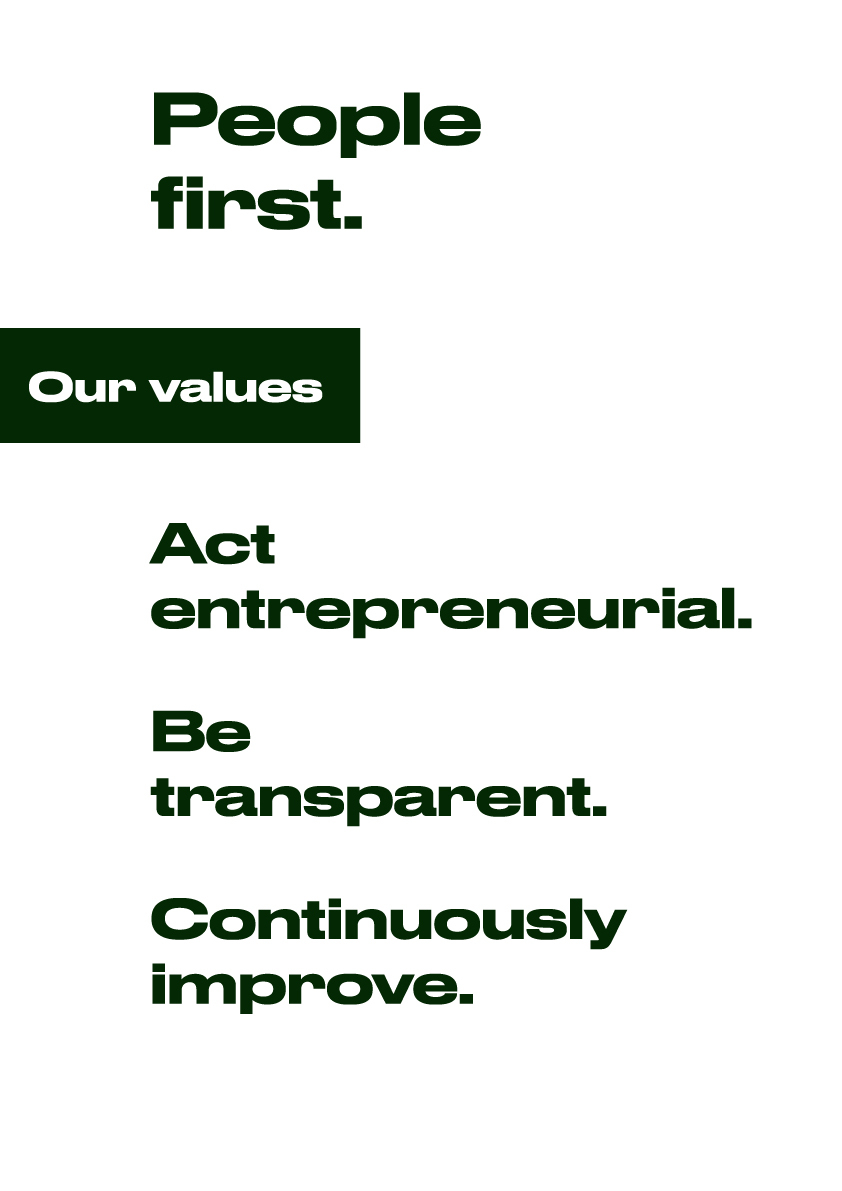 Act entrepreneurial.
We hire great people that are driven by our purpose and care about the big picture. We let them run loose, so they can take full ownership of their projects and behave like entrepreneurs. From day one they receive the authority and trust to make decisions in their area of expertise to create value for our customers - no matter if working student or C-Level.
Be transparent.
In order to make the best decisions for the company, employees need access to all relevant information to understand the full context. Furthermore, transparent handling of information increases mutual trust and experienced fairness.
We also encourage people to express their emotions and feelings, and share ambitions, opinions and thoughts to better understand, collaborate and support each other.
Continuously improve.
We are open to change and want to continuously improve based on all the things we have learned as a single person, as a team and as the overall organisation. Therefore, we don't hide our mistakes, but we admit failures to take advantage by learning from them. Furthermore, we want to ensure that our employees get the possibility to develop on an individual level and can pursue a meaningful career at Sanity Group.
Already working at Sanity Group?
Let's recruit together and find your next colleague.