Sanity Group
·
Office Jägerstraße
·
Remote
HEAD OF ACCOUNTING (F/M/D)
SOUNDS GOOD? We are looking forward to receiving your application!
Die Sanity Group hat sich zum Ziel gesetzt, die Lebensqualität von Menschen in Europa durch den sinnvollen Einsatz von Cannabinoiden zu verbessern. Wir glauben daran, dass die Natur noch viel ungenutztes Potenzial bereithält, das für viele Menschen zu einem gesünderen Leben beitragen kann. In unserem Fokus stehen dabei neben Arzneimitteln auch Wellbeing- und Kosmetikprodukte auf Cannabinoidbasis. Parallel arbeitet und forscht die Sanity Group zudem an neuen Medizinprodukten, innovativen Dosierungsformen sowie technologischen Produkten zur Weiterentwicklung der Infrastruktur. 

Hilf mit, das volle Potenzial der Cannabispflanze und ihrer Inhaltsstoffe zu entschlüsseln und den Menschen nutzbar zu machen.
Unser Finance Team sucht zum nächstmöglichen Zeitpunkt einen Head of Accounting (f/m/d), der die Buchhaltung für unsere Holdinggesellschaft und Tochtergesellschaften verantwortet: 
DEIN TERRAIN
Du leitest unser Accounting Team fachlich und disziplinarisch und professionalisiert unsere Accounting Aktivitäten zur Vorbereitung für weiteres Wachstum innerhalb der gesamten Gruppe
Du bist erster Ansprechpartner für alle Abteilungen zu bilanziellen, steuerrechtlichen und buchhalterischen Fragestellungen sowie für Wirtschaftsprüfung und Steuerberatung und begleitest externe Prüfungen für die gesamte Gruppe
Du verantwortest alle Abläufe des operativen Tagesgeschäfts im Bereich Buchhaltung und Zahlungsverkehr
Du bist verantwortlich für die Erstellung von Monats-, Quartals- und Jahresabschlüssen gemäß HGB und IFRS
Du unterstützt das Controlling durch die Erstellung von Soll-Ist-Vergleichen und Ad-hoc-Auswertungen
Du entwickelst und optimierst unsere bestehenden buchhalterischen Prozesse kontinuierlich weiter
DAMIT ÜBERZEUGST DU UNS
Du kannst Dich mit unserer Mission, den europäischen Cannabis Markt zu revolutionieren, identifizieren und willst dazu Deinen Beitrag dazu leisten
Du verfügst über eine kauf­männische Aus­bildung, ein abgeschlossenes Studium mit Schwerpunkt Finanzen oder eine entsprechende Weiterbildung zum Steuerfachangestellten
Du kannst mehrjährige Berufserfahrung in der Buchhaltung vorweisen und konntest bereits Führungsverantwortung übernehmen, idealerweise in einer international agierenden Unternehmensgruppe
Du bringst fundierte Kennt­nisse in der deutschen und internationalen Rechnungs­legungs­vorschrift / Bilanzierung nach HGB und IRFS mit
Du gehst routiniert mit den MS-Office Programmen (insbesondere Excel) um, kennst dich in den gängigen Buchhaltungssystemen aus (Datev) und scheust dich nicht davor mit neuen Programmen zu arbeiten
Du bringst eine Hands-on Mentalität mit, arbeitest zuverlässig, strukturiert und mit Liebe zum Detail 
Deine Kommunikation ist immer freundlich und geduldig mit fachfremden Kollegen
Du sprichst und schreibst fließend Deutsch und Englisch
WORAUF DU DICH FREUEN KANNST
Wir bieten dir flexible Arbeitszeiten in einem innovativen und agilen Arbeitsumfeld
Wir pflegen einen unkomplizierten Umgang miteinander in flachen Hierarchien und mit kurzen Entscheidungswegen
Wir wollen eine offene Kultur und agile Arbeitsweisen gestalten, mit viel Raum zum Gestalten und Platz für deine Ideen
Wir bezahlen fair - orientiert an deiner Qualifikation und Erfahrung
Wir bieten interne und externe Weiterentwicklungsmöglichkeiten, denn Stillstand bedeutet Rückschritt
Wir leben eine Fehlerkultur mit dem Motto "Fail fast", denn Fehler machen uns besser, wenn wir transparent damit umgehen und daraus lernen
Wir organisieren Teamevents für jede Menge Spaß neben der Arbeit
WAS DU NOCH ÜBER UNS WISSEN SOLLTEST
Die Sanity Group wurde 2018 von Finn Age Hänsel und Fabian Friede gegründet und beschäftigt mittlerweile in Deutschland ein Team von über 120 Mitarbeiter*innen - mit dem Headquarter in Berlin-Mitte und einem Produktionsstandort bei Frankfurt am Main. Marken der Sanity Group sind u.a.  Vayamed (Arzneimittel), Sanity Science (Produktion), Belfry Medical (medizinische Geräte), VAAY (CBD-Produkte) und This Place (funktionale Kosmetik). Das Unternehmen wird bei seinem Vorhaben strategisch wie finanziell von Venture-Capital-Gesellschaften wie HV Capital sowie von verschiedenen Business Angels wie Musikproduzent Will.i.am, TV-Moderator Klaas Heufer-Umlauf, Fußballprofi Mario Götze und Model Stefanie Giesinger unterstützt.
KLINGT GUT? Dann schick uns deine Bewerbung!
Department

Locations

Office Jägerstraße

Remote status

Flexible Remote
Related jobs
Your Benefits
Flexible working hours in an innovative and dynamic working environment

Uncomplicated interaction with each other in flat hierarchies and with short decision paths

An open culture and agile way of working with plenty of space to design and space for your ideas

Internal and external development opportunities, because stagnation means a step backwards

An error culture with the motto fail-fast, because mistakes make us better if we handle it transparently and learn from it

Team events and a lot of fun besides work

Cereals, beverages, product discount and many more
Our Culture
Our identity can be defined as "People first": we believe that everybody deserves to live a healthy life, has a meaningful career as well as a happy private life.
This includes, that ...
we want to work with people whose values and beliefs are consistent with what is important to us and what we believe
we want to create an environment where people can show and be who they really are and see themselves in the long-run
we want to build an environment where everyone strives for the best outcome
Our identity determines our values act entrepreneurial, be transparent and continuously improve that guide both our behavior and decision making: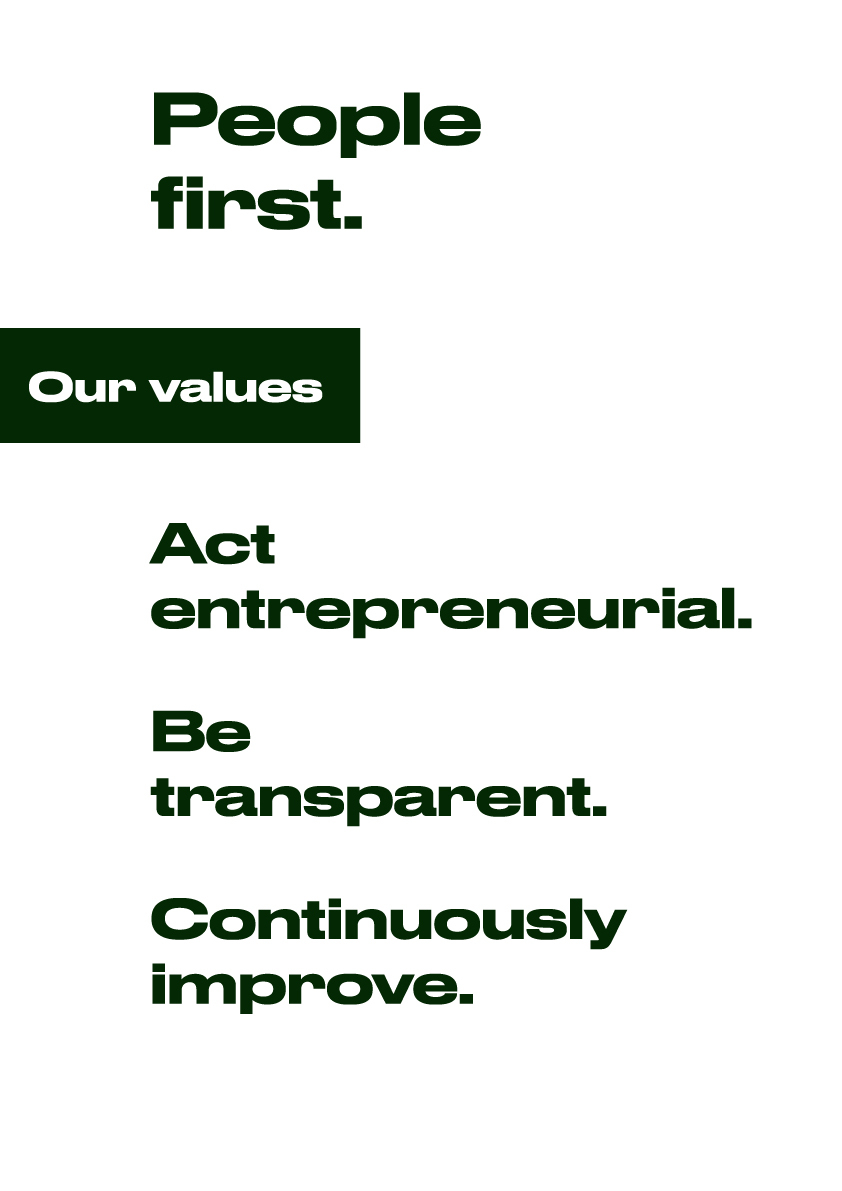 Act entrepreneurial.
We hire great people that are driven by our purpose and care about the big picture. We let them run loose, so they can take full ownership of their projects and behave like entrepreneurs. From day one they receive the authority and trust to make decisions in their area of expertise to create value for our customers - no matter if working student or C-Level.
Be transparent.
In order to make the best decisions for the company, employees need access to all relevant information to understand the full context. Furthermore, transparent handling of information increases mutual trust and experienced fairness.
We also encourage people to express their emotions and feelings, and share ambitions, opinions and thoughts to better understand, collaborate and support each other.
Continuously improve.
We are open to change and want to continuously improve based on all the things we have learned as a single person, as a team and as the overall organisation. Therefore, we don't hide our mistakes, but we admit failures to take advantage by learning from them. Furthermore, we want to ensure that our employees get the possibility to develop on an individual level and can pursue a meaningful career at Sanity Group.
Already working at Sanity Group?
Let's recruit together and find your next colleague.