Sanity Care
·
Office Jägerstraße
HEAD OF E-COMMERCE (F/M/D)
Our team needs more great colleagues! Does the development and marketing of innovative natural hemp-based products to help people stay in balance sound exciting to you? Is working in a young, ambitious company with a diverse team your thing? Are you looking for a challenge in an exciting and growing market? Then you've come to the right place!

YOUR TERRAIN
You are planning the expansion & internationalization of our online shops
You develop online shops according to our brand guidelines and are in constant exchange with our brand owners
You are responsible managing projects for the further development of the shops with external/internal partners
You are analysing and monitoring the important E-Commerce KPIs
You are developing a digital language in close cooperation with Design and Marketing
You are focussing on long-term development of the shops
You analyse and coordinate the requirements of users and stakeholders on the front and back end, develop solutions and organise their implementation together with our Shopify agency
HOW YOU CONVINCE US
You can identify yourself with our mission to revolutionize the European cannabis market and want to make your contribution
You have worked in the e-commerce environment for several years and have already gained excellent experience with developing online shops built in Shopify and Shopify Plus
Your affinity for e-commerce helps you to recognise trends that our target group finds attractive
You have a strong product focus and an overview of state of the art/visionary D2C online stores 
You have proven experience in building new features with cross-functional and partially remote working teams
You have a strong sense of responsibility and organizational skills, as well as problem-solving and scalable approaches
You have proven (agile) project management skills to keep everything on track and control costs
You can perform well in agile environments
You are Business fluent in English & German
WHAT YOU CAN LOOK FORWARD TO
We provide flexible working hours in an innovative and agile working environment
We cherish uncomplicated interaction with each other in flat hierarchies and with short decision paths
We foster an open culture and agile way of working with a lot of space to create and develop ideas
We pay fair - based on your qualifications and experience
We provide internal and external development opportunities, because stagnation means a step backwards
We live an error culture with the motto "Fail fast!", because mistakes make us better if we handle it transparently and learn from it
We organize team events for a lot of fun besides work
WHAT YOU SHOULD KNOW
Sanity Care GmbH with its three brands VAAY, This Place, and Sanatio CBD is the B2C unit of the fast-growing cannabis start-up Sanity Group based in Berlin. The brands of Sanity Care GmbH develop and sell lifestyle and cosmetic products based on natural cannabinoids such as CBD and other herbal ingredients. VAAY & Sanatio CBD, for example, stand for CBD and hemp-based products to promote mindfulness, balance and well-being as part of a healthy lifestyle; This Place is the functional natural cosmetics brand with natural wellness and beauty products. Our goal is to harness the full potential of the cannabis plant and to explore and harness more cannabinoids other than CBD in the future.
SOUNDS GOOD? We are looking forward to receiving your application!
Related jobs
Your Benefits
Flexible working hours in an innovative and dynamic working environment

Uncomplicated interaction with each other in flat hierarchies and with short decision paths

An open culture and agile way of working with plenty of space to design and space for your ideas

Internal and external development opportunities, because stagnation means a step backwards

An error culture with the motto fail-fast, because mistakes make us better if we handle it transparently and learn from it

Team events and a lot of fun besides work

Cereals, beverages, product discount and many more
Our Culture
Our identity can be defined as "People first": we believe that everybody deserves to live a healthy life, has a meaningful career as well as a happy private life.
This includes, that ...
we want to work with people whose values and beliefs are consistent with what is important to us and what we believe
we want to create an environment where people can show and be who they really are and see themselves in the long-run
we want to build an environment where everyone strives for the best outcome
Our identity determines our values act entrepreneurial, be transparent and continuously improve that guide both our behavior and decision making: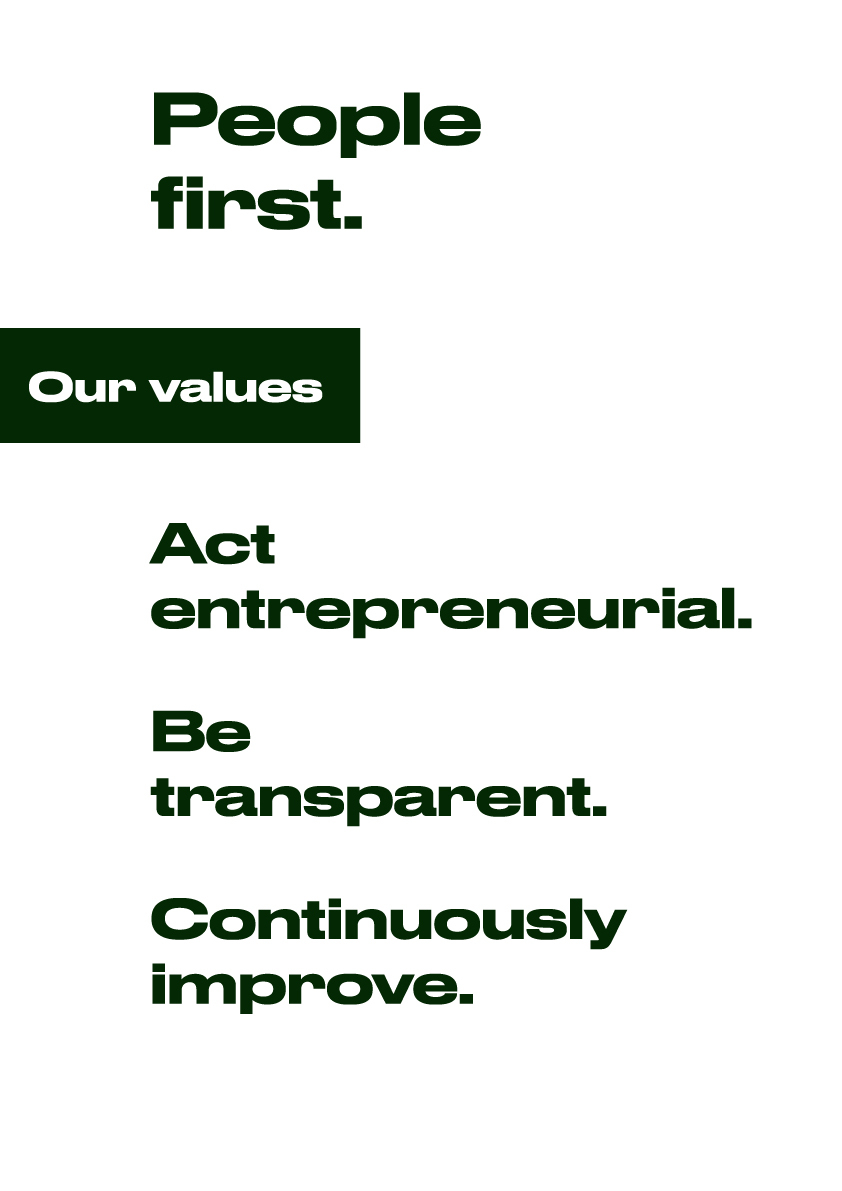 Act entrepreneurial.
We hire great people that are driven by our purpose and care about the big picture. We let them run loose, so they can take full ownership of their projects and behave like entrepreneurs. From day one they receive the authority and trust to make decisions in their area of expertise to create value for our customers - no matter if working student or C-Level.
Be transparent.
In order to make the best decisions for the company, employees need access to all relevant information to understand the full context. Furthermore, transparent handling of information increases mutual trust and experienced fairness.
We also encourage people to express their emotions and feelings, and share ambitions, opinions and thoughts to better understand, collaborate and support each other.
Continuously improve.
We are open to change and want to continuously improve based on all the things we have learned as a single person, as a team and as the overall organisation. Therefore, we don't hide our mistakes, but we admit failures to take advantage by learning from them. Furthermore, we want to ensure that our employees get the possibility to develop on an individual level and can pursue a meaningful career at Sanity Group.
Already working at Sanity Group?
Let's recruit together and find your next colleague.